guided tour of the maravillas gymnasium
The Foundation offers architect-led tours of the Maravillas Gymnasium.
Contribution: 10 €/person. 30% discount for friends and members of the Foundation. (Minimum group: 7 people).
When: tuesday and thursday.
The tour of the Foundation begins at 12:30pm and is optional but recommended. The visit to the gymnasium is from 2 to 3pm. Visits to the Maravillas gymnasium are only available during the school term, as it is closed during the holidays. They are subject to the public opening hours established by the La Salle Ntra. Sra. del Maravillas School.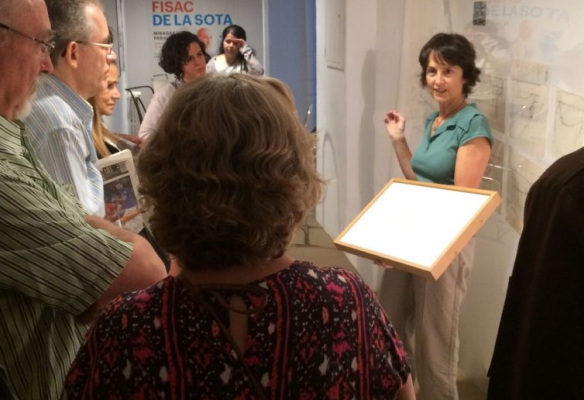 Guided Tour of the Alejandro de la Sota Foundation
The Foundation's offices are located in Alejandro de la Sota's former studio, in the centre of Madrid. On the guided tour you will have the opportunity to see the architect's workspace, and to photograph the furniture that he designed, as well as appreciate the details of the famous doorframe-pull – the woodwork that Alejandro de la Sota himself patented and used in works such as the Maravillas Gymnasium, the Civil Government of Tarragona and the CLESA Dairy Facility.
You will also see original works on paper from the archive, including the architect's watercolours and caricatures, in addition to plans, drawings and photographs of his projects. You will be guided through an exhibition of material from the archive.
Contribution: 5 €/person. Friends and members of the Foundation: free guided tour
When: from monday to friday, 10:00-12:00pm.
reservations
To reserve places on a guided tour, please send an email to info@alejandrodelasota.org with the following information:
Preferred date of visit
Number of visitors
Contact name and telephone number
Reservations will be confirmed via email once a receipt for an electronic transfer has been received. We will provide you with our account number when you contact us.